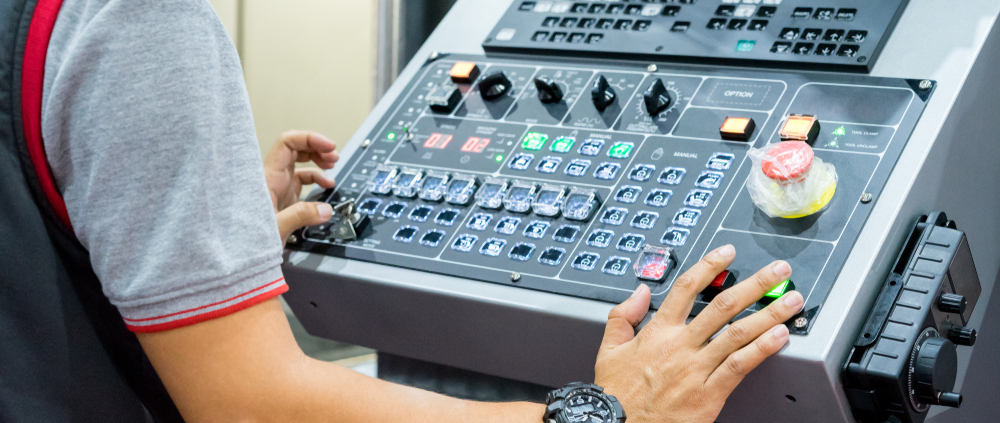 How Do I Get Machine Operating Jobs Near Me?
5 Steps to Success in Your Machine Operator Job Search
If you're asking yourself, "How do I get machine operating jobs near me?" You'll find the answers in this three-minute read. With salaries averaging between $29,000 and $39,000, good camaraderie at work and steady employment prospects, if you want to land your first job as a machine operator or are struggling to find a new machine operating job, this article is a must-read.
Education and Skills You Need for Machine Operating Jobs
Before we walk you through the steps to get a machine operator job, let's look at the education and skills most valued by employers. You'll need a minimum of a high school diploma or GED. If you are experienced in machine operation, then you may also have further specific qualifications, such as the Manufacturing Institute's Certified Production Technician or Manufacturing Technician Level 1 qualifications. Over and above such education and qualifications, employers seek the following core skills:
Communication
Even if you operate a machine on your own, you'll be working as part of a team. Products usually roll through several processes before they are completed. To keep productivity high, you will need to communicate with other team members, explaining what you need and understanding the needs of others.
Strength and Stamina
You are likely to be undertaking repetitive work in either a seated or standing position. You may also be required to lift heavy loads. Therefore, strength and stamina are needed.
Detail-Oriented
From setting a machine up to watching the produce moving through production, you'll need a keen eye to spot inconsistencies. Attention to detail and maintaining focus are essential skills of the best machine operators.
Computer Literate
Modern machines rely on inputs from computerized systems to function effectively. You will need to input parameters and calibrate machines using computer inputs, and may also need to produce reports to document productivity and efficiency.
Problem-Solving Skills
Hardly a day will pass without a minor hitch. You will be expected to apply your knowledge and experience to help identify and solve problems, therefore reducing downtime and improving productivity.
5 Steps to Land Machine Operating Jobs Near You
With your high school education or professional qualifications on your resume, here are five steps to take to land a machine operating job near you.
Familiarize Yourself with Hand Tools
Though you may be using heavy machinery, you will still need to use basic hand tools like pliers, screwdrivers, wrenches and hammers. This is especially the case when making minor repairs to machinery.
Show You Can Work Under Pressure
Factory floors are fast-paced and high-pressured. Show you can handle the pressure by proving experience under pressure. Demonstrate on your resume that you are good at managing your time and prioritizing tasks, that you pay attention to detail, and work well as part of a team. Previous positions in warehouse jobs can help and these 5 tips can lead to promotion in warehouse jobs.
Earn Relevant Qualifications
While a GED is enough to gain employment as a machine operator, gaining relevant follow-up qualifications will help to make you stand out as the ideal candidate. When working as a machine operator, you should actively pursue these qualifications – an investment in yourself is the best investment you can make. Relevant qualifications can also help you win promotions and pay rises.
Optimize Your Resume
Compose your resume for the position you are applying to by highlighting relevant experience, qualifications and skills. Refer to the list above to make sure your resume is on track.
Register with a Specialist Staffing Agency
Specialist recruitment agencies have close relationships with employers of machine operator jobs. This can be critical to your job search. A specialist recruiter will understand you and the role you seek and know whether an employer will be a good fit for you. Your knowledge and experience should get you the best machine operating job. The knowledge and experience of a specialist recruitment agency will make sure that the job is with the right employer.
To learn how Coast Personnel has helped thousands of jobseekers like you land their ideal machine operator job, get in touch now. You won't be disappointed.
https://www.coastjobs.com/wp-content/uploads/2020/03/shutterstock_1043304859.jpg
667
1000
Coast Personnel
http://www.coastjobs.com/wp-content/uploads/2019/02/Coast-1030x434.png
Coast Personnel
2020-03-13 09:08:33
2021-03-30 14:02:37
How Do I Get Machine Operating Jobs Near Me?