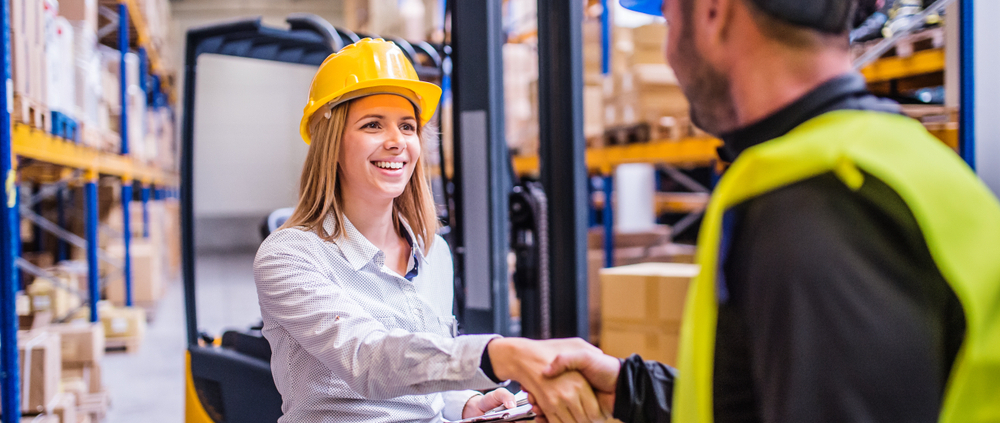 How to Highlight Warehouse Jobs Skills on Your Resume
Tips to Enhance the Skills Section of Your Resume
When applying for warehouse jobs, one of the key parts of your resume is the skills section. This tells potential employers that you are qualified to do the job advertised. This part of your resume may seem easy to write. You know what skills you have, right?
However, with employers spending an average of six seconds reviewing candidates' resumes, you only have a short space to make a great first impression. 79% of the jobs Coast Personnel fill require applicants to have a resume for our client to review. To help your resume stand out and impress hiring employers, here are some top tips for highlighting your skills.
Why You Must Focus on the Skills Section of Your Resume
The skills section of your resume helps the hiring manager quickly assess if you are suitable for the warehouse job you are applying for. With resumes being scanned quickly (and perhaps by automation), having a skills section is vital to catch the eye of the hiring manager and show them you have strong capabilities for the warehouse job advertised. You can list or bullet point your relevant skills. This reduces the effort the reader must put in to assess your suitability – and the more obvious your capabilities, the easier it is for them to decide to invite you for interview.
Include Keywords on Your Resume for Warehouse Jobs
It is also worth remembering that many employers use recruitment software. Such technology scans for keywords before a human gets near your resume. By having a skills section, you can ensure you list keywords that the employer would be looking for. If you don't, your resume may not even reach a hiring manager.
Assess the Responsibilities of the Warehouse Job
You should customize your resume for each warehouse job you are applying for. Review the job description and research the employer. Assess what skills you have that will be most desirable to them, then focus on highlighting these on your resume. The job description will give you key clues to the skills that the employer is after. For example, look at this section of a job description for a picker role:
"It's a physical job! If you have never worked in a warehouse environment before, you should understand that you will be on your feet for 90%-95% of your shift."
This employer has noted that it is a physical role. Therefore, adding physical fitness as a skill to your resume when you apply for this role would tick boxes for this employer. If you don't highlight your physical capability, you are far more likely to be rejected.
Highlighting Your Skills for Warehouse Jobs
A good way to highlight your skills is to imagine you have already been given the warehouse job. Think about yourself in the role and the work you will be doing. Then look back on previous experience and how the things you have learned would help you perform the role well.
Once you have assessed the skills you have that would be useful for the role, you can then think about how to present them on your resume in a way that will stand out from other candidates.
Demonstrate How Your Skills Have Been Beneficial to Your Previous Employers
You will be competing with other applicants to get an interview for any warehouse job. Many of them will probably have the same skills as you. You need to find a way to stand out. To do this, you can demonstrate to employers that you really have the skills they need and how they are helpful.
For example, you may be very quick as a picker. You may have been so fast picking in your last role that you reduced the time to fill orders by 10%. Make sure that you highlight your achievements in ways that demonstrate the advantage of hiring you over others. You need to answer the "So what?" question your interviewer is thinking before he doesn't consider your application any further. Make everything you put on your resume count.
Avoid These Warehouse Resume Mistakes
You must be honest on your resume, ensure you make the most of the small amount of space you have, and use language that is easy to understand. Here are three mistakes to avoid:
1. Don't add skills you don't have:
The worst thing you can do on your resume is list skills you don't possess. You might land the job, but it will quickly become apparent that you lied, and you may be fired. Instead, highlight your best-match skills and make sure you show that you are a quick learner of new skills.
2. Don't include skills that are not relevant or obsolete:
Which skills you include on your resume will depend on what warehouse job you are applying for. Keep skills that are relevant to the role for examples, and don't include those that aren't. Remember, your space is limited, and so is the attention span of the reader.
3. Don't overuse buzzwords:
Hiring managers see hundreds of resumes, and after a while, buzzwords start to lose meaning. Words like 'passionate', 'strategic', and 'creative thinker' will cease to have the dramatic meaning you believe they do – and they take up valuable space on the page.
Getting the Skills Section Right for Warehouse Jobs
The skills section of your resume sets the tone for your application. Taking the time to compose it correctly, and to customize your resume for unique warehouse jobs, will greatly improve your chances of landing an interview.
As a specialist recruitment agency, Coast Personnel works with some of the best employers of warehouse jobs in the United States. Whether this is your first warehouse role or you are a seasoned pro looking for a new opportunity, contact Coast Personnel today.
https://www.coastjobs.com/wp-content/uploads/2020/05/shutterstock_1033720384.jpg
666
1000
Coast Personnel
http://www.coastjobs.com/wp-content/uploads/2019/02/Coast-1030x434.png
Coast Personnel
2020-05-07 09:20:16
2021-03-30 13:53:23
How to Highlight Warehouse Jobs Skills on Your Resume