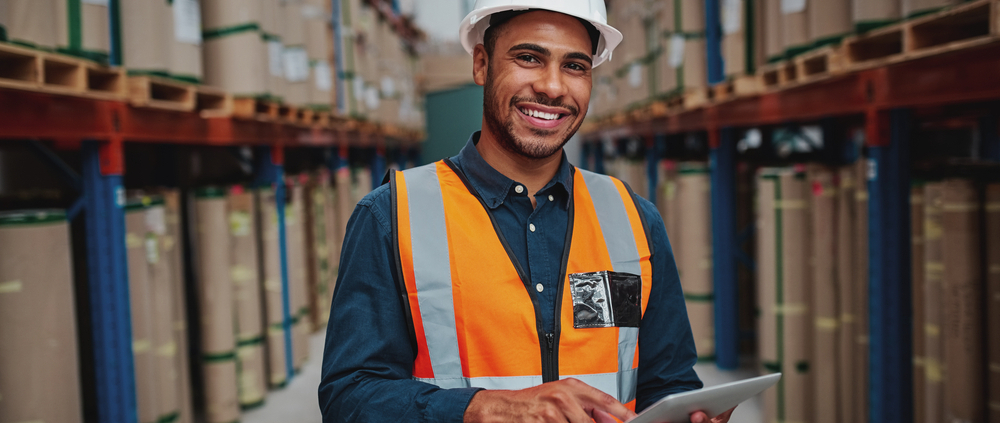 Are Warehouse Jobs a Good Career Choice?
From Entry-Level to Senior, Warehouse Jobs Have It Covered
You're considering warehouse jobs, and you believe you have the seven skills needed to be successful. But are you making a good career choice?
Many people find they can carve out a good career in a warehouse, moving up the ladder to supervisor, manager, and beyond. It may also prove a useful steppingstone to other roles.
Indeed, with learning on the job and the experience you gain, there is no reason why you shouldn't follow a career path that leads to salaries way above the national average of around $50k per year (Bureau of Labor Statistics, 2020). There are certainly incredible warehouse jobs for standout skills.
In this article, we give you an idea of the career path you could follow – though there are many other routes you could take along the way.
The Path to Management and Beyond in Warehouse Jobs
Warehouse jobs can provide exceptional career options, beginning from entry-level and branching out into a variety of opportunities in management and senior level. There's no rigid career pathway in warehouse jobs; you can sculpt a rewarding career that suits you.
Here are just a few of the warehouse jobs that you could move into as you progress in your career.
Warehouse Packager
With an average salary of $11.76 per hour, you'll be responsible for:
Marking and labeling products
Weighing/measuring materials
Inspecting storage areas/containers/packing processes
Ensuring shipments packed according to company policy
This position can also sometimes be called a Warehouse Inspector, and is a great steppingstone in your warehouse career.
Production Worker
As a Production Worker, you'll be maintaining and operating equipment in the warehouse or factory, preparing items for machinery such as conveyor belts before they're distributed.
The warehouse relies on your ability to ensure the smooth and safe operating of all machinery, checking and assembling product parts, so that warehouse productivity is maximized.
The national average salary for a Production Worker is $11.96 per hour.
Stock Clerk
At a national average salary of $12.01 per hour, you'll be responsible for the safe receipt of unpacking of products, as well as:
Labeling them accordingly
Storing stock correctly
Conducting quality assessments before products are accepted
Away from the 'shop floor', you will ensure that other staff can locate quality products with ease and efficiency.
Shift Manager
The national average salary is slightly higher for the Shift Manager, at $12.44 per hour. You will ensure adequate staffing levels, and delegate staff across the warehouse.
As well as assigning the correct staff levels to the most effective positions, you'll also have to ensure adequate resources and supplies are available for staff to fulfil their roles.
Additionally, you'll monitor safety compliance amongst staff, and ensure tasks and shipments are complete at the end of each shift.
Shipping and Receiving Clerk
For a national average salary of $13.45 per hour, the Shipping and Receiving Clerk has a scope of responsibilities that extend to ensure correct distribution and receipt of products.
You will ensure goods are shipped safely and securely, and inspect incoming products for damage and quality. Both imports and exports will require accurate weighing.
You'll need to be great at record keeping, monitoring, and recording all shipments and goods received, and ensuring data matches the orders. You'll also need to be able to operate machinery such as hand trucks and lift trucks.
Receiving Manager
As a Receiving Manager you can expect to earn around $44,317 per year, to reflect your responsibility in overseeing all distribution services in a warehouse, including:
Inventory checking
Supervising staff
Training staff
Planning and delivering processes
Coordinating operations
Recording quality checks on received goods
Managing allocated budgets
Shipping Supervisor
A Shipping Supervisor must work with tight deadlines to ensure shipments are received on time and on budget. In this role you'll also manage shipping staff, and liaise between your teams and management, while also monitoring the quality of shipped and received products.
The expected annual salary for this role is averaging $48,992.
Quality Assurance Manager
A Quality Assurance Manager receives a highly rewarding salary of $75,136 per year on average.
Your major role will be to ensure no damaged or poor-quality products are distributed from the warehouse. You'll also be responsible for:
Safety and hazard analyses
Inventory inspections
Outlining compliance measures
Monitoring day-to-day warehouse operations
Production Manager
As a Production Manager, you will:
Manage budgets
Negotiate schedules and costings with clients
Train production staff
Provide staff supervision
Plan production timetables
Assess resources required
You'll also ensure all the above are executed with safety and quality compliance. In return, you will be rewarded with an average salary of $75,704 a year.
Are You Ready for a Career in Warehouse Jobs?
Warehouse jobs provide candidates with a multitude of career options. We've identified some great opportunities in this article for warehouse jobs, but they are only a few of many, which also include jobs such as Warehouse Process Engineer, Assembly Technician, or Forklift Operator.
There really is something for everyone to start a career in warehouse jobs and excel into management and senior roles that suit your ever-growing skills and abilities.
It's time to update that resume and highlight your warehouse jobs skills. Contact Coast Personnel today and get your career started.
https://www.coastjobs.com/wp-content/uploads/2021/03/shutterstock_1673899603.jpg
667
1000
Coast Personnel
http://www.coastjobs.com/wp-content/uploads/2019/02/Coast-1030x434.png
Coast Personnel
2021-02-01 12:00:09
2021-03-30 12:18:41
Are Warehouse Jobs a Good Career Choice?