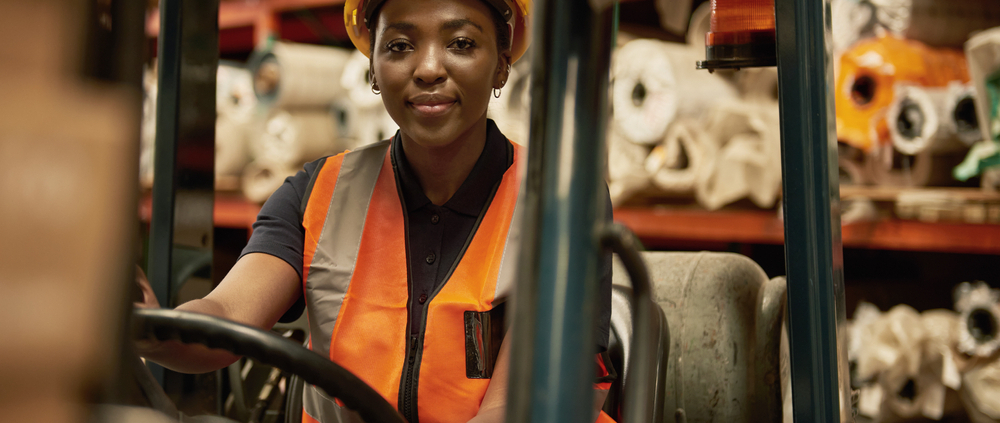 How to Turn Your Warehouse Job from Flop to Fantastic
6 Tips, and One Life-Changing Solution
Does your warehouse job leave you feeling dissatisfied at the end of the day and under-rewarded on pay day?
There's hope yet. Here are six tips to turn your warehouse job into one you love, and to develop a rewarding career that makes you happy every day.
6 Ways to Make Your Warehouse Job More Fun and Engaging
1.     Impress Your Boss with New Skills
Some people excel in warehouse jobs – some don't. Be the employee who actively seeks to improve their skills. There is plenty of room for career progress in warehouse jobs, particularly as technology is changing warehouse roles.
Make sure you always say yes to training or opportunities from your employer, and consider investing your spare time into achieving goals that will enhance your knowledge and skills.
Being willing to learn and having a determination to succeed will impress your boss, and leave you in a strong position of being considered for any promotions or training.
2.     Set Yourself a Daily Goal – and Celebrate Achieving It
Every day is an opportunity to learn something new. And this doesn't mean stumbling across opportunities to learn. For your warehouse career to progress, make a plan to achieve. Think about what you struggle with, or don't understand, or are yet to master. Each day, take a steppingstone to a better understanding or ability.
These steppingstones will lead you to greater achievements and enjoyability in your work. Set yourself a reward to keep you focused and celebrated – and the rest shall follow.
3.     Laugh More!
We all are guilty of sometimes taking work too seriously. While tasks and responsibilities must be fulfilled to a high standard, that doesn't mean you're not allowed to have a laugh! In fact, smiling can chemically reduce your stress and blood pressure. You'll work smarter, feel better, and your colleagues will love your presence.
4.     Compliment a Co-Worker Every Day
Compliment a colleague's achievements and efforts, big or small, and boost their spirits. It'll work wonders for your working environment, and put you in a good mood – making you more energetic and productive.
In return also, you'll see team spirits lift. A little skip in everyone's steps, and laughter. You've created a hub of activity and sense of belonging for you and your team, because you brought in that positivity that is infectious and reciprocated.
5.     Join a Club at Work
Make time for the offerings your employers or colleagues have created that you may have considered before, but not actually tried. Even consider clubs you haven't considered before. Try something new. Learn something new. Take on a role or responsibility within that club, and discover something different about yourself.
You'll create more networking opportunities, more friendships, more interests, and skills – all of which will help your career progress and boost your job enjoyability.
6.     Make the Most of Your Lunch Break
What do you do in your lunch break? If it's to lose yourself into your phone or social media accounts at your workstation, you'll likely return feeling sluggish and detached from your job and colleagues.
Instead, do something invigorating. Get a workout in and see your endorphins fly you through the rest of a productive day in a positive mood. Get out into some fresh air, for some silence and thinking, or to a new little café with a friend. Play a board game with your colleagues that gets you laughing and talking over something non-work related.
Your lunch hour is a precious window to rejuvenate, stimulate, and recharge. Discover what boosts you, and go for it.
And If None of This Works?
Sometimes, no matter what we do, our professional life simply makes us feel down, drained, and even depressed. This is not OK. We spend too many hours in our lives at work to allow ourselves to endure such negative feelings.
If you've tried these great tips to give your warehouse job a kick and still feel something's missing, then it's time to act. Let us know here at Coast Personnel how you're feeling. You don't even need to know where you think you should go next. Simply upload your resume.
We'll take the time to learn more about you so that we can help you discover a career path that will have you feeling motivated, supported, and happy in your job. We are here to help, so reach out today.
https://www.coastjobs.com/wp-content/uploads/2021/10/shutterstock_1906300618.jpg
667
1000
Coast Personnel
http://www.coastjobs.com/wp-content/uploads/2019/02/Coast-1030x434.png
Coast Personnel
2021-10-01 12:00:12
2021-10-07 16:01:59
How to Turn Your Warehouse Job from Flop to Fantastic